LA Solar Group provides its customers with a complete warranty package. Our solar warranty covers any defects in the panels and components, system failures, and damages to the roof caused by inappropriate workmanship for 25 years. This coverage is included in addition to any manufacturer's warranties on system equipment and components, which range in coverage and length.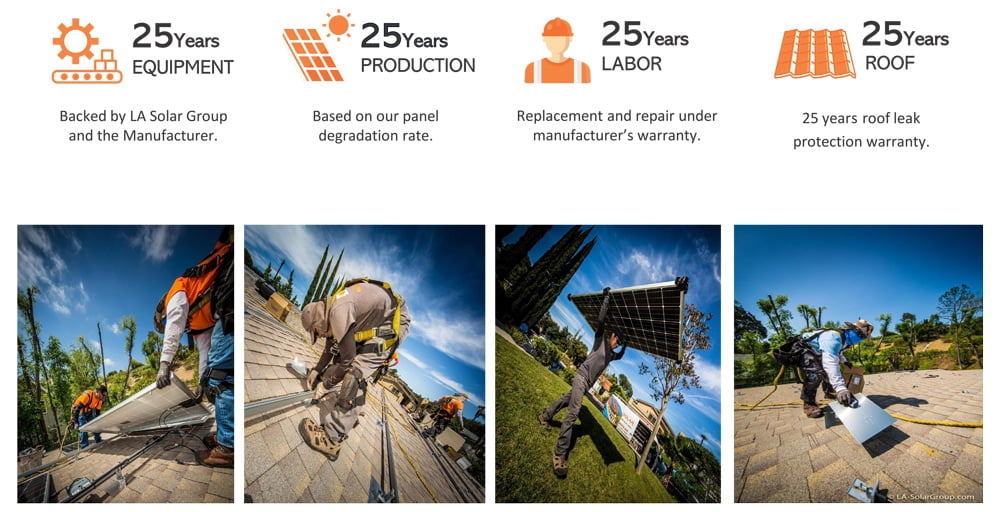 Manufacturer's Solar Warranty
Roof Penetration Warranty
If the installation causes leaks, then roof penetration warranties cover the roof's damage caused by the leak after solar panel installation. However, a roof penetration warranty is not applicable if the solar installation does not cause the roof leak.
It is no surprise that panels lose efficiency in the long run. However, with the system design, the solar company also ensures you an amount of system output that you can expect. The system's electrical output shall not decrease by more than 10% during the 10 years and 20% for the other 15 years. 
We only work with insured partners who are licensed to install and maintain the system. We provide a Solar System Warranty, Roof Warranty and Output Warranty for the entire agreement term.