HOLIDAY ANNOUNCEMENT: Due to the holidays, our offices will be closed for December 30th, 2022 to January 2nd, 2023. 
We will follow up with you upon returning to the office. Have a happy new year!
IMPORTANT – SolarEdge Inverter Customers:  If your Inverter has stopped communicating, please click here for additional information.
— HOLIDAY ANNOUNCEMENT —
Due to the holidays, our offices will be closed for December 30th, 2022 to January 2nd, 2023. 
We will follow up with you upon returning to the office. Have a happy new year!
IMPORTANT – SolarEdge Inverter Customers:  If your Inverter has stopped communicating, please click here for additional information.
Net Metering 3.0 is coming

Secure better savings, go Solar now!
Serving over 25,000+ Customers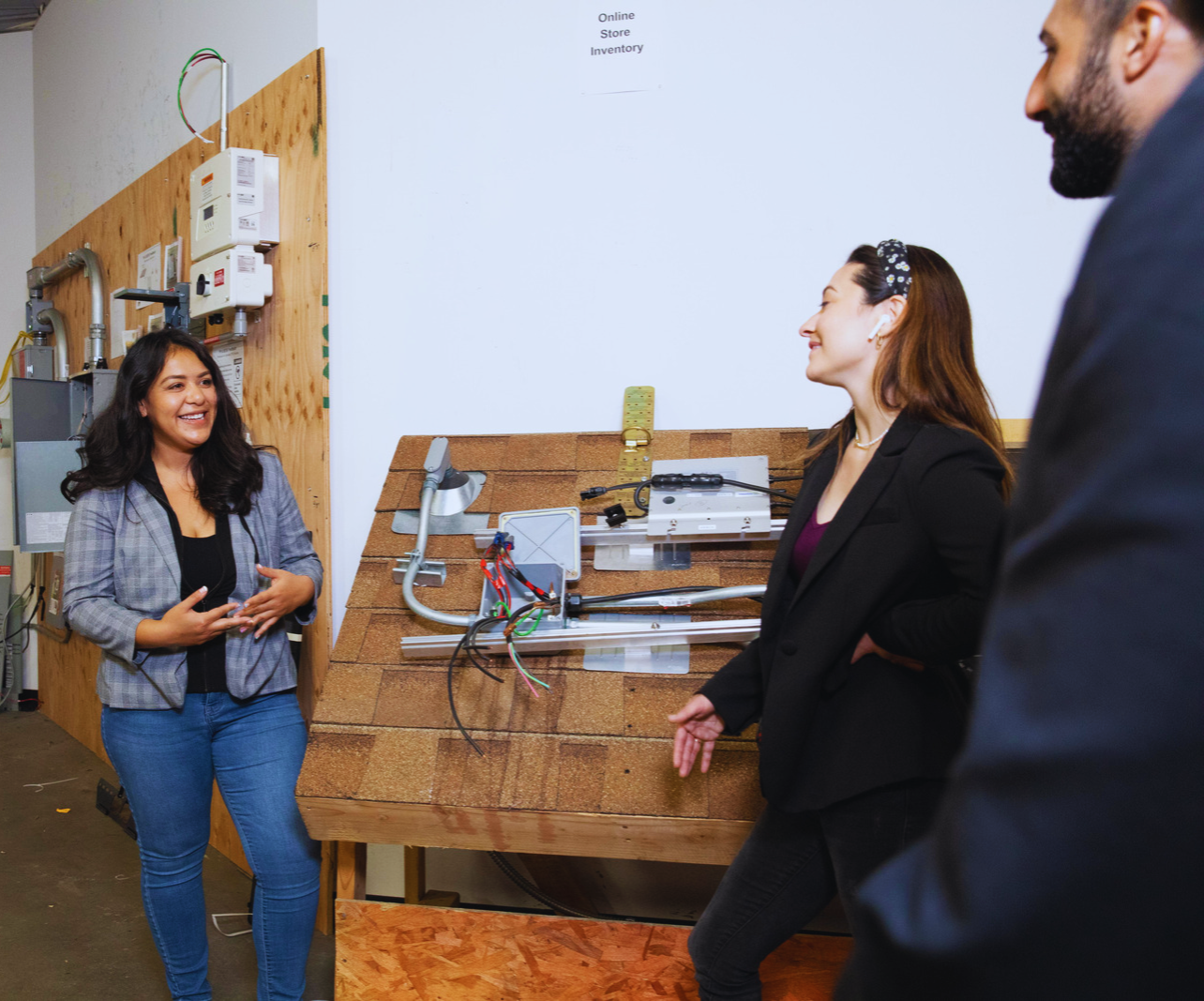 SOLAR INSTALLERS LOS ANGELES
Our goal is to provide customized solutions to assist your home and company reach its energy goals. We test and monitor your system to validate energy production before turning it on.
We have a team of consultants, engineers, and installers who have been dedicated to providing a great experience from design to activation for over 12 years.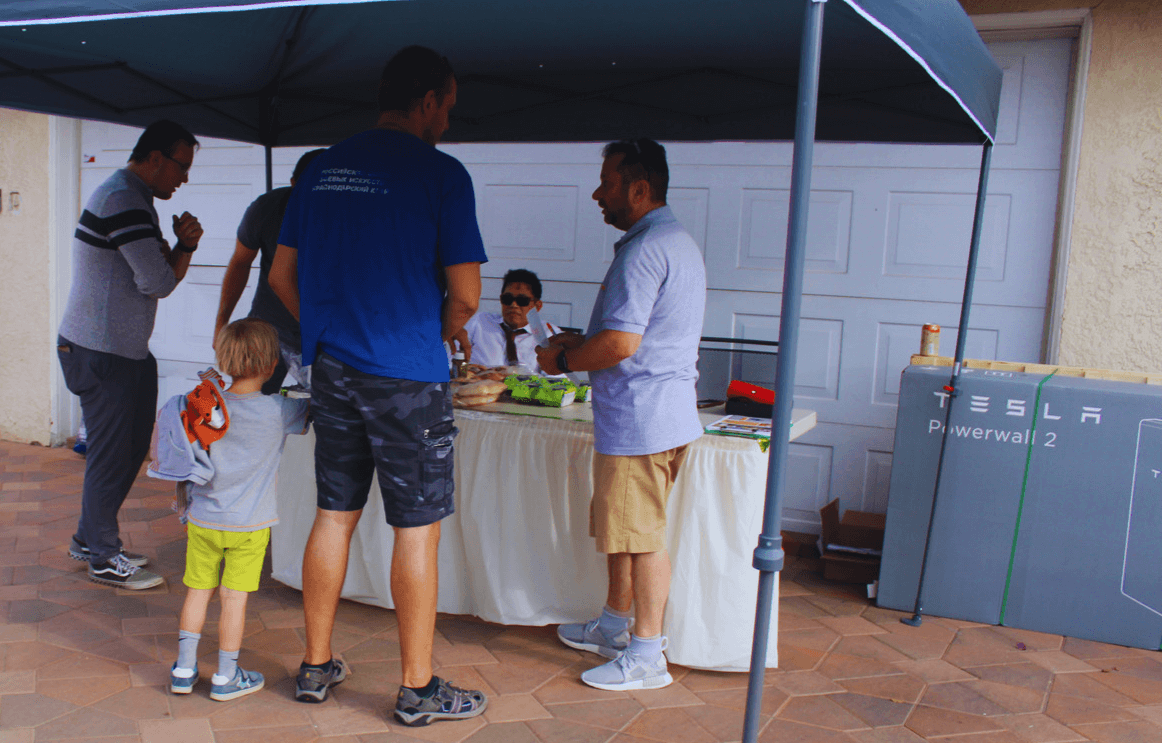 Solar panels are an energy self-sufficiency system with a useful life of about 25-30 years. Homes with solar panels rely less on the grid by capturing energy directly from the sun.
Going solar is a smart choice because homeowners and businesses that switch find a significant reduction on their energy bills while contributing to the environment and reducing their carbon footprint. It is important for the solar installation process to go smoothly in all dimensions.
It is always advisable to trust experienced solar companies that specialize in the design and installation process to do the work. We perform the best quality solar panels installation as well as the design for the weight and stress calculations. LA Solar Group has proven this through years of experience. A series of factors should be considered to ensure that you have an efficient installation that pays for itself.
Solar Support Structure
One of the fundamental components in any photovoltaic installation is the support structure of the rails. This element allows for optimal placement and installation, hence your solar array to be fixed in an optimal location providing it with firmness, security and the proper orientation.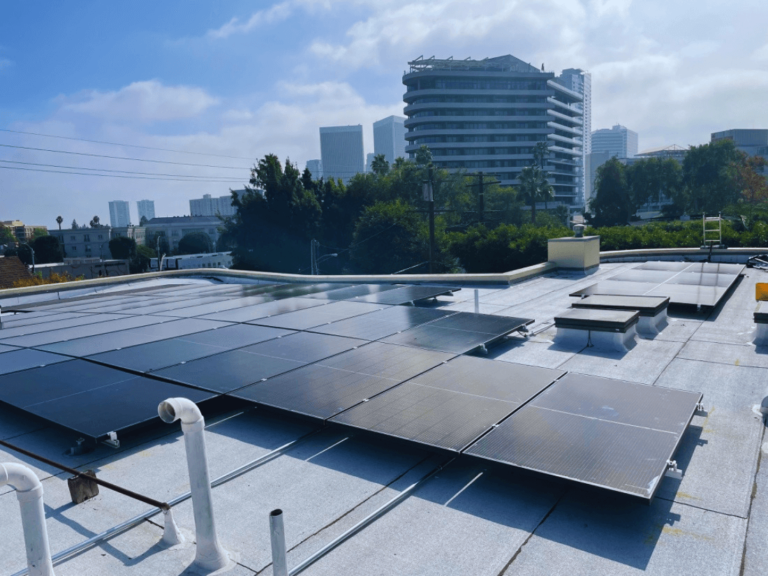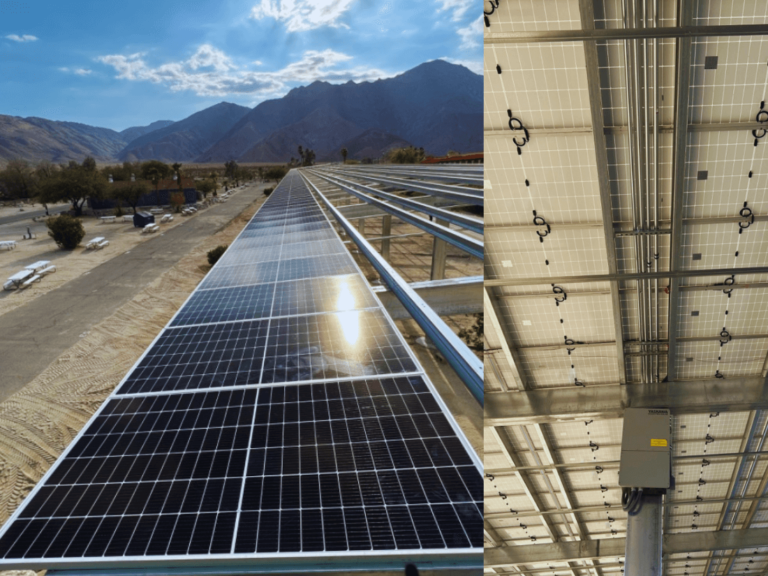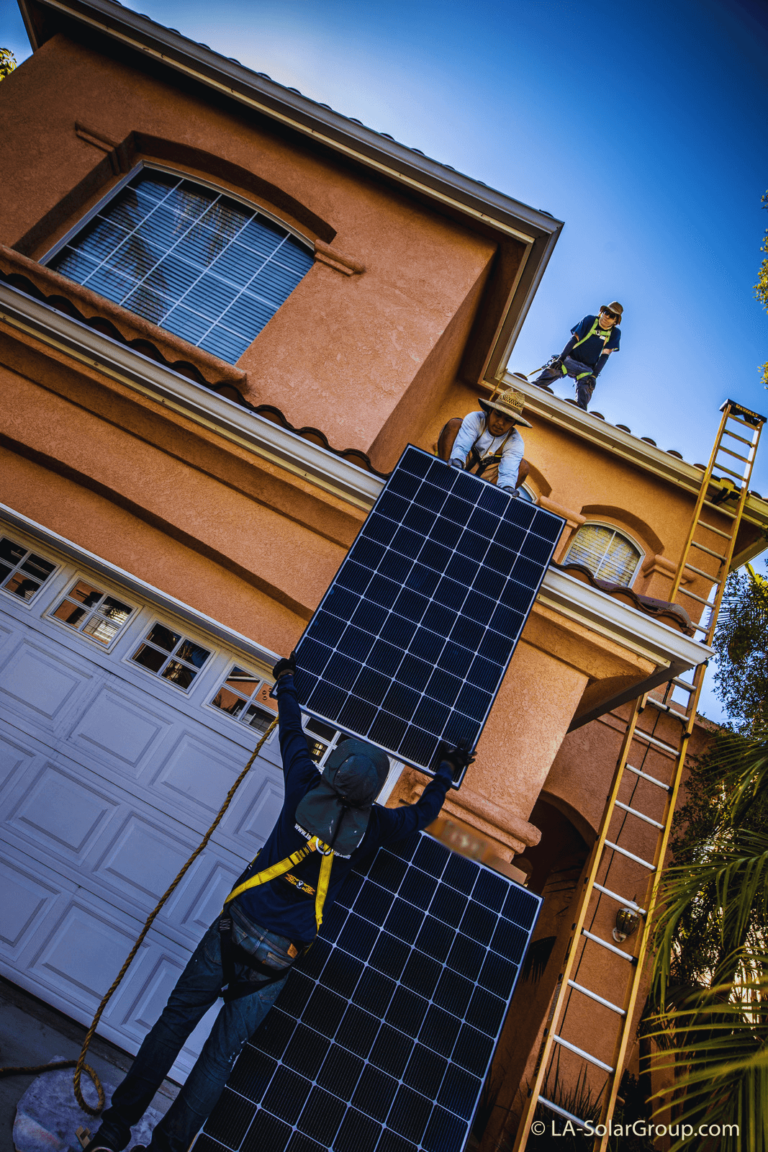 Setup Ladder and Safety Straps
Draw Solar Panel Layout
Installation of Rails and Electrical Equipment
Panel Installation
Quality Check
Inspection
Permission to Operate (PTO)
Depending on whether the photovoltaic (PV) installation is carried out on a roof or a ground mount, the type of structure will change. Sun exposure and the orientation of the installation site are factors that influence the design. Therefore, a structure for solar ground mounts will be very different from a structure for shingle roofs.
Place of installation of the solar panels
The climate and the orientation in which the PV panels are installed are critical factors and will directly influence the efficiency of the panels . Therefore, we know the areas that will allow us to obtain the greatest amount of solar power.
Off-grid PV system vs. grid-connected PV system
ISOLATED SYSTEMS
Isolated PV systems are those installed with the intention of fully supplying all the energy demands of buildings and various structures. The energy captured by these facilities is stored in batteries, so that it can be used throughout the year. Due to this, the time of year that should be taken into account is winter, since energy consumption tends to increase while solar power from the sun may decrease during that time.
Through isolated systems, it is possible to obtain electricity in remote places far from the electrical distribution network. This installation entails a higher outlay, given that one of the most expensive components of a stand-alone PV system tends to be the battery storage.
SYSTEMS CONNECTED TO THE GRID
In PV systems connected to the grid, the energy that is generated is fed into the electrical distribution network . When the balance between energy demand and PV energy production is equal, it will behave in the same way as isolated systems.
As soon as the energy captured by the panels exceeds the energy demand, the surplus will be fed into the grid. In this case, with the latest reform of the law, it will be possible to obtain financial compensation for that energy poured into the lines. On the other hand, when there is an energy deficit, the energy will be obtained from the conventional electrical grid.
Revaluation of the building for Solar Panels
One of the usual doubts both for homeowners and industrial warehouses is whether it makes sense to install solar panels, especially if you do not know how long you are going to be in the building in question. Although for these systems it is common to have to wait between 7 and 10 years for the return on investment, it must be taken into account that the building in question will be reevaluated by having an energy self-sufficient PV system.
Equipment Placement
In the case of photovoltaic panels, it is necessary to take into account the seismic events of the geographical location and the force of the wind. This element must be taken into account when choosing the appropriate separation of the panels.
Although the solar panels must be outdoors to capture solar power, the other equipment necessary for their operation must be protected. It is recommended that both the inverters and the batteries, in the event of having a solar installation isolated from the electrical network, are located in a protected, dry, cool and ventilated place.
LA Solar Group stands out with 12+ years of experience and 25,000 customers. Request a free consultation with our experts to be able to know your needs, understand and adapt your project to your home or business needs. You will be in good hands!
Going solar with us means you will power your home with solar energy and save up to 50% on your utility bills. 
Solar panels installed in homes in Los Angeles can reduce an annual electric bill by thousands of dollars. Because of this, thousands of residents have already changed to solar. In addition, the rising enthusiasm for renewable energy is as high as the demand for technology. Over the years, it has grown, and the cost of installation has been reduced to a more attainable level.
We facilitate the management of your system
Our in-house smart main panel helps you manage your solar power distribution, monitor your solar panels' condition and plan your energy usage.
Through LA Solar Group, you can obtain a lower the cost for installing your home system and join the thousands of home owners who are now enjoying the government's 30% tax credit. Cost-effective solar panels in LA means that there's never been a more suitable time to invest in solar and battery storage in order to backup the energy usage of your home.
  Once we've installed your solar system. You can leave the monitoring and maintenance to us. Our team will carry out all of it. We offer 25 years of warranty for our LA solar panels/installations and we guarantee production. Panasonic and/or any other brand uses their respective warranty.
Thank you for choosing LA Solar Group, one of the most trusted solar providers in Los Angeles, California with over 12 years of experience and more than 25,000 completed projects. To find out more about our LA solar manufacturing and panel specs, you can visit our manufacturing website at https://www.lasolarfactory.com/en_us. Our large supply variety allows our engineers to serve commercial and residential clients. We also offer a wide range of incredible deals on solar panels which makes us the most cost-effective solar installation company in LA.
What's included when you choose LASG:
The design of your future system 
The evaluation and paperwork
The Installation
The monitoring and maintenance
Big Savings
Nicholas Rodriguez
2022-10-14
Everyone I dealt with was extremely professional, from the people in the office to the installers. They made appointments and showed up on time. Placement of the panels was perfect and the installation was flawless. Not easy as they basically had to rewire my panel. Passed inspection the first time and works perfectly. Highest recommendation! I just had some additional work performed, months after the initial work, specifically installation of an EV Charger. The tech arrived on time, was super professional and helpful and did great work. 5 star from start to finish.
john fontanini
2022-10-07
Took too long for permitting – but all is well now
Gajaba Hewamadduma
2022-10-04
We had a such a positive experience with LA Solar. From sales process to installation and after installation communication, it was great. ( most of the time, I was not even home ). Thanks !
9/29/22 5 stars because of Johnathon pratt.. He came to install the DTU that the previous owners took. And checked our panels on the roof after I had some concerns and he went above and beyond to do things right.
hovsep Pilikian
2022-09-23
I had a great experience working with LA Solar Group. They have great service and support, specially support was great. Everything was done quickly and on-time. The technicians I worked with were very knowledgeable and provided useful technical help. I'm very happy with my solar panels and Tesla Powerwall. I would recommend LA Solar Group to anyone looking to add solar to their home.
Great communication and follow up from the LA Solar team to replace my Enphase and to get it working.
I purchased a system through LA Solar about 6 years ago and have nothing but positive things to report back. The system has been trouble free since installation until a month or so ago the inverter blew. They replaced free of charge, came to do the work when they said they would and everyone involved was very polite and professional. It's been an excellent purchase thus far
I'm very satisfied and happy with LA Solar.They are very professional and helpful.
I'll recommend them to all my friends and relatives,and to anyone who asks me which Solar Company I… read more used.
I called 4 different companies and the best prices and service I got from
LA Solar Co.

Boris T.


3/20/2023

LA Solar Group (LASG) came highly recommended from my friend who used them for a solar PV system.  I met with a number of solar companies, and I felt LASG… read more was the best choice for me.  Their price for the solar panels and microinverters was very competitive.  Alex Bronstein was our sales rep from LASG and he did a fantastic job of explaining everything perfectly and putting our minds at ease about what we could expect from LASG, how they stand by their product and installation team, etc. I also appreciate Alex's no-pressure solar presentation. I am very pleased with the high-quality professional work and our new much lower (mostly zero or negative) electrical bills.  I highly recommend Alex and LA Solar Group and have already recommended them to a family member and a co-worker.

Boris B.


3/03/2023
OUR PRESENCE AND PARTNERS
Still have any questions? Get a free consultancy!
You can contact us by phone: (818) 373-0077 or by email: info@lasolargroup.com
Still have any questions?
Get a free consultancy!
You can contact us by phone: (818) 373-0077 or by email: info@lasolargroup.com