Solar panels for commercial buildings
Solar panels for commercial buildings
You could save money on your energy costs by switching to a solar powered electric system. But you must understand the implications for your commercial building. Working with LA Solar Group, a solar contractor, can help assess the various solar energy options available for your commercial property.
Let's look at LA Solar Group's industrial and commercial solar solutions can help your business move to a solar energy source.
Commercial Solar Installation Options
There are many options to install a solar array within your building. If you own land an array of solar panels could be placed on it. LA Solar Group will help you choose the ideal location for your ground-mounted array.
Solar panels that are mounted on the ground must be placed in a location with plenty of sun and isn't obstructed by trees. If you don't have any free, clear space around your panels could be put up onto the rooftop of the house or on a carport roof in the event that it has one. Since they're flat, both carport and building roofs can be used for solar panel installation. LA Solar Group can help you assess these options and pick the best one for your needs.
Commercial Solar Financing Options
There are a variety of financing options once you begin building your solar plan. It is up to you to decide who will own your solar array. It can be purchased outright and you can either choose to own it through a third party or directly. You can buy your solar array with cash, or take out a loan.
Additionally, you are eligible for tax credits in certain states and localities. Incentive programs such as net metering are also accessible to you. Third-party ownership is the term used to describe LA Solar Group, your solar installer, is the owner of the solar array and you can buy the electricity it generates by signing a solar lease agreement and power purchase contract (PPA).
LA Solar Group will help you choose which financing and ownership option is the best fit for your solar budget.
How can a solar energy system improve your facility?
The solar panels are put in on commercial buildings in order to increase the efficiency of their power sources. This helps reduce your carbon footprint and your dependency of fossil fuels. This can also reduce the energy required to operate your facility effectively.
Additionally, you can generate electricity for your facility and decrease your dependency on your utility company. You can then send surplus energy to the local power grid in order to give back to the community.
Solar energy systems allow you to take advantage of green energy, making use of it for the benefit of your commercial business.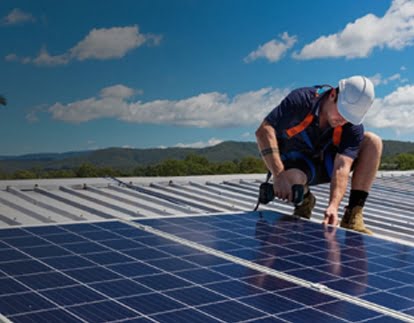 Advantages and disadvantages of solar panels for commercial buildings
The Benefits of Solar Panels for commercial businesses
1. Installing Solar panels will help you save money.
Commercial owners might be put off by the idea about switching their business to solar energy due to the fact that they've heard it's expensive. It is crucial that you inform commercial property owners of the benefits of installing solar panels in their commercial structures.
While the initial setup costs could be higher than average, those who use solar panels can expect to see a return on their investment through very little in electricity and other maintenance charges.
2. Businesses of all sizes can have commercial solar panels that will be ideal
3. Renewable energy is solar power
It is scientifically proven that solar energy comes from the sun. This is a fact that has been throughout the universe from the beginning. According to scientists, solar energy is better than fossil fuels, which will ultimately decline in value over the next 6.5 billion years.
4. Businesses will see a significant ROI on their investment when they utilize solar energy
If you're thinking of changing your commercial buildings to solar energy it's an investment. This is something that is not widely known however, the return on investment can be higher than other investment options in terms of savings that businesses earn over time.
5. Commercial buildings may have solar panels that help improve their image.
Commercial solar panels work excellent for efficiency in energy use, but they also have the advantage of marketing the company's commitment to renewable energy. Your business should not just support solar panels for clients, but also communicate a an affirmative message that shows how much you care about the environment and your commitment to sustainable development.
Your neighbors, customers as well as employees and guests will see that you're as well attracted by the green movement. Your clients will realize that solar energy not just helps the environment, but also influences how people view your business.
6. Local economies benefit from contracting with solar panel installers
Commercial business owners who sign contracts with a LA Solar Group are helping to boost locally-based economic growth. Local employees do the job. There is a greater demand for solar panels. This means that there are more jobs of high-quality with good pay. These workers will be your future customers.
7. Solar panels are extremely reliable and need very little maintenance
They are quiet and maintenance-free, businesses aren't required to think about installing commercial solar panels. Our job as an experienced solar panel installation company is to make sure that clients know that the majority of commercial buildings have the ability to accommodate solar panels.
To withstand any weather threat The solar cells are encased with tempered glass and non-corrosive aluminum. Roof hatches allow for easy access to your roof, making installation a breeze. The photovoltaic cells used in solar panels are very resistant to degradation.
It is crucial to inform customers that their solar panels are covered by a warranty.
8. Commercial solar cells are beneficial for the environment.
The greatest benefit of photovoltaic arrays is that they don't pollute the environment. While there may be some emissions that are associated with the production or installation of solar cell, they don't emit harmful gasses. This contributes to the reduction of the harmful climate change effect, which has affected the ozone layer for a long time.
9. Solar panel gardens help to resolve installation issues
Large spaces are often required for solar energy panels. Solar panel gardens are a different option, since most businesses don't are able to install solar panels. These gardens can accommodate many panels to ensure that energy can be distributed equally.
10. There are no worries about the noise
Solar panels are quiet for those who are interested in solar panels. They don't come with distinct components that generate different sounds that could be distracting or annoying.
11. Commercial businesses can be part of the a global movement by installing solar panels
Solar panels are an investment made by commercial owners who want them to participate in a global movement for greener and more sustainable energy. This is a great opportunity to demonstrate that you're ready to change to a more renewable energy source.
Businesses and companies can reap the benefits of green energy when there is an increase in people using green energy. Although it may seem tiny and insignificant, businesses that are able to save energy will make a huge difference.
The disadvantages of solar panels for commercial use
1. The dependence of commercial businesses on weather conditions will be increased through solar panels
Solar panels could reduce dependence on electric companies. However, they can additionally, they increase the dependence on weather that is unpredictable. It could be harmful to the efficiency of any business's system when there is cloudy or rainy days. A lot of solar panels in one row could also result in higher power bills.
2. Solar panels could be negatively affected by a design with excessive amounts of trees and buildings
It is possible that the solar energy system may not be as effective when it's surrounded by high-rises or trees. The solar panels will not work properly even in the hottest of sunlight.
If your clients choose whether or not to go solar, they will need your guidance and inspection of their building site.
3. Extra care is required for solar panels.
Contrary to popular belief solar panels need special care and attention. Panels that have been covered with dirt or debris won't perform as well. Commercial buildings can also benefit from a roof hatch. Roof hatches are a great method of providing qualified technicians with access to repair parts for solar panels should they are damaged due to winds-tossed debris, or even animals.
4. A significant upfront investment is required to install commercial solar panels.
If the investor isn't ready for an industrial solar system could really cause the investor to lose their savings. The solar panels even when they receive rebates and tax breaks are still an expensive investment that must be considered with care.
The question regarding how electrical systems is constructed in the event that an solar energy system gets integrated into an existing structure is an additional issue. It may be necessary to replace the roof. This is why it's more costly to install the system in an older building than one that is being constructed.
As a specialist with solar technology, our team can help your clients to do an exhaustive cost-benefit study before they make the decision to invest that much money.
5. Solar panels are available in various quality choices.
There are many options to commercial solar panels. There are numerous options available which include monocrystalline, polycrystalline and thin-film solar panels. These panels come with the following features that will help you provide additional information to your customers:
Monocrystalline panels The oldest type of solar panel. Solar panels made of monocrystalline are the most efficient when it comes to producing electricity.

Polycrystalline panels - These panels are smaller that monocrystalline panels. These panels offer excellent quality despite taking less space.

Thin-film solar panels – This form of panel is the most cost-effective. Thin-film panels are also the most efficient.
To determine the most effective solution or product, take into account the reputation of the brand.
6. Only intermittent energy sources are available through solar panels.
Solar panels are not capable of working in darkness, and they will not even function if there is no sunlight. The sun also can provide warmth at various intensity. It is crucial for commercial companies to store any solar energy absorbed by the panels. It is vital to keep a backup power source, particularly in areas that don't have a lot of sunlight.
7. The need for large spaces is often for solar panels.
A large area may be needed to enable effective solar panels generate the electricity needed. This isn't easy for commercial businesses located in cities with a high density of people.
Do you consider solar panels for commercial buildings?
The Earth already faces the consequences of climate change, in spite of all the years of sourcing energy. Industries are increasingly turning to sustainable and green construction. It is vital to make it a priority more than ever.
Solar panels are becoming more affordable for homeowners and businesses. Solar panels that were once expensive are now able to be mounted on roof racks as low as $3000. Although some people might consider the massive solar panels unattractive and unattractive however, there are other options like solar roofing tiles. They can appear like normal slates for roofs but they absorb sun's energy without drawing any attention. These tiles allow to build stunning, sustainable eco-friendly homes as well as eco-commercial properties. Even though it may not seem like much but solar panels are an effective method to get prospective customers, and to keep them coming back.
It is also worth noting that while it's the right time for business owners to make the green and sustainable choice by making the switch to solar energy as an environmentally friendly option However, there are some downsides for commercial photovoltaic energy.
Roof hatches can also be used to protect solar panels. They make it possible for engineers to easily reach the roof during maintenance. LA Solar Group could provide an ideal roof hatch to enhance solar panels for the best results in building projects!