New Solar Power - Where are We Going?
Many people instantly think of old solar panels on rooftops, or in the desert solar farm. This is an apt justification, considering that rooftop solar panels and traditional grid-connected solar systems dominated solar markets until now.
However, there are several promising and innovative solar power technologies that are currently in development or are already in the market. These new and exciting technologies are set to change our perception of solar energy in general. Solar energy does not require huge roof or a large space or roof space, nor does it have to be unsightly. Keep reading to find out more.
Floating solar farms (also known as floatovoltaics)
Every day, silicon panels are less expensive and have higher efficiency. Experts say that photovoltaic panels installed on reservoirs and other water bodies will have greater efficacy as well as a variety of other advantages.
Floatovoltaics," also known as photovoltaic, are solar power systems that can be used to build floating structures within reservoirs or dams.
Floating farms can produce huge amounts of generating electricity, without the need to utilize valuable land or real property. The cost of installation for the floating panels are less than those on land. Studies have also shown the floating panels could generate up to 10 percent more power because of the cooling effects of water.
A floating solar plant can produce clean solar energy as well as help to manage water. Since they hinder air circulation and block sunlight from reaching the surface of the water floating solar farms decrease water and power loss through evaporation. Floating solar farms also stop the development of harmful algae which lowers water treatment costs. Furthermore, the water that flows beneath the solar panel can help maintain their cleanliness and reduce consumption.
The the Napa Valley's Far Niente winery, California was the first to install a 175 kWh floating-panel system.
Building-integrated photovoltaics, as their name suggests, blend seamlessly into building architecture. They can be utilized in roofs and canopies and curtain walls, facades, skylight systems, and various other roofing types. BIPV, in contrast to traditional solar PV panels , can be attractive and does not compromise the style of the building.
For solar industry buyers it's not enough just to be appealing. They must also consider the economics of purchasing solar panels on the market. BIPV solar panel systems are a great alternative for homeowners who wish to lower their energy consumption and build materials costs. It is possible to save on the cost of solar power mounting through the use of BIPV instead of conventional construction materials.
BIPV technology is used to enhance the facade of the building as well as the atrium, terrace floors and canopy.
High sound and thermal insulation

The sun generates clean and free solar energy.

Lower O&M costs

Zero carbon footprint
The photovoltaic elements of solar PV glasses can be used for building and permit natural light to illuminate offices and homes. They also work as power-generating devices.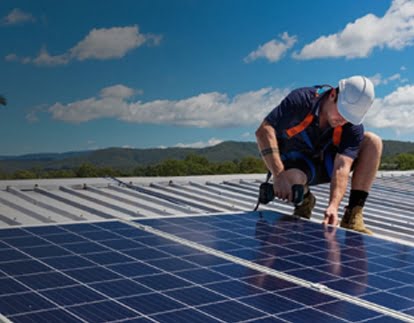 Technically speaking, BIPV is any building material capable of producing solar electricity. Here are a few examples of BIPV tech:
Solar roofing is perhaps the most well-known form of BIPV technology. This kind of BIPV technology is also known by the names solar tiles and solar shingles. You can replace your roof with tiles or shingles using a dual-purpose solar roofing material which generates electricity as well as providing shelter.
While solar roofs provide many benefits however, it's not as advanced as traditional solar panels. The reason for this is that solar roofs don't have the same level of efficiency as traditional polycrystalline and monocrystalline solar panels. Also, solar roofs can be more costly than solar panels for roofs.
Solar Cells Transparent glaze
Since the sun is more visible on buildings than roofs, why wouldn't you take advantage of the space? While the geographic location of solar radiation will determine how much sunlight a structure receives, there are often excellent exposures along one or more sides. Solar windows (or also called solar glass) are a class of BIPV products well-known on the market for solar products. They utilize extremely thin solar panels that can capture sunlight but retain their transparency like a regular window.
General building components
We're not aware of other methods to integrate solar into structures so we'll stick with "general elements" at the moment. These could include solar structures, facades of buildings, and any other structural elements along the sides of buildings that could be converted into solar-friendly. Solar-integrated building elements make use of organic solar cells and thin-film solar panels more frequently than rooftop solar panels.
There are pros and cons to using Building-integrated photovoltaics
Benefits of BIPV
BIPV has the obvious benefit of producing free solar energy. Solar energy is reaching Earth enough to supply our planet with electricity 10,000x. So every bit of energy we can use for electricity generation is a plus.
BIPV is appealing due to its design. BIPV lets you switch to solar energy in a subtler and more elegant manner that solar panels. BIPV is a great option for commercial and industrial structures. It lets you display your company's innovative spirit and sustainability.
BIPV is an integral part of the construction process. It is therefore important to plan ahead in order that you can build your structure with BIPV solutions. In order to integrate solar solutions, it is crucial to know what areas of sunlight are required prior to building any structure. Understanding upfront that you're keen on incorporating solar energy into your building can help reduce builders' costs.
Solar skins permit you to include custom designs in your solar panel system. Similar to bus windows advertising solar skin technology operates in the same manner.
LA Solar Group is the producer of solar-skin sunscreens and is currently testing it's technology with the United States National Renewable Energy Laboratory. Thanks to advances in selective light filtering, solar sunscreens made of thin film have a high efficiency. The sun's rays are filtered to get into the cells beneath the solar skin. This allows it to show the image of your choice and also generate solar energy.
These customized images embedded in solar panels can match exactly the lawns and rooftops of your residences.
Solar skin panels are also an excellent option for offices of government and business. They can be personalized to display logos of companies and advertising messages flags of nations and more.
Solar skins are also designed to be lower than conventional racking systems, and to hide metal components. The LA Solar Group Solar Group's Solar skins could be the answer to your panel's problems in aesthetics.
LA Solar Group also allows you to track your system operation 24 hours a day using your mobile. You will be informed if your system is having issues or in the case of an outage. The app will also provide most appropriate solutions.
The downside to solar skin panels is solar installation cost. They are about 10% more expensive than traditional panels.
There are some disadvantages to this product that you must consider. The technology, although it is appealing for concealing solar arrays, remains in its infancy to the world market. There are also some negative aspects. Before we go into the negatives of this product, however we'll examine the pros.
Solar Skin Pros
Solar skin is an excellent addition for your solar panel as it blends with your roofline. Solar skins can be used to transform your home into an art piece or transform your roof into a space for advertising.
Pros include the long-lasting life promise, which has led to Fraunhofer as well as Atlas testing. The product is a long-lasting film that will last for more than 30 years and provides solar panel glare reduction.
Product testing covered cracking, dirt retention as along with blistering, browning and yellowing. It has also been flash tested to ensure optimal light transmission.
Solar Skin's Cons
The efficiency of solar panels is the most prominent flaw in solar skin. While this technology lets sunlight through, some aspects of UV light is blocked.
Take into consideration the expense of solar skin to your array. Already, homeowners invest thousands of dollars into solar. The technology is expected to increase the cost.
Finally, the applique is only covered for a period of ten year, despite having an extended warranty of 30 years. The average solar panel has an 25-year guarantee. But the solar skin can start to fade and possibly lower the efficiency of the panel even further before they reach the expected end-of-life.
Solar fabric
Solar radiation is everywhere throughout the world. Why not generate your own energy? Imagine being able to produce solar power from anywhere on the planet, at the same time, you're moving through your clothing.
Researchers are creating Solar fabrics, with the aim of including solar energy in every fiber. These solar filaments are able to be embedded into winter coats and t-shirts and other clothes. They can help you stay warm, charge your phone, and give you energy while you're on your move.
Researchers have tried to integrate solar fabric, solar panels, and solar cells in a range of different areas.
Solar-fabricated household clothing can be a great way to save on the cost of mounting and installation.
Furthermore, LA Solar Group is working on the US Army project to develop solar-powered robotic camping tents. As solar prices remain low, it is not impossible to imagine a world in which all power will come from solar energy.
Solar Cell Fabric has Many Benefits
There are many additional amazing benefits solar cell fabric could provide to your daily life. These were listed to meet the current needs of people.
1. The capability for charging electronic devices
Imagine you are out and about all day, taking pictures with your smartphone and taking a few calls. You can also write messages, browse through your social media feed, and not have to think about whether your battery is low or where to charge your smartphone.
You always have the option of using a storage device, though it's possible that you forget to bring them along or to charge them. If you wear clothes that have integrated solar cell technology, you'll be at peace and relaxed all day. To make these cell efficiency operate and produce electricity, you just need to get a little sunlight. After that, you can simply plug in your smartphone to your USB port on your garment.
2. Reduction in electricity use
This is the reason we'll use less on electricity if phones don't charge at home, or in other places other than our solar panel fabric. This patent will allow for an enormous reduction in energy consumption should it be realized to its full potential.
While it might seem that charging these small gadgets isn't important in an overall electricity consumption perspective, it's quite the contrary. It's an equation that is dependent on the amount.
While it's not something you should worry about as an individual, you should know that charging your mobile for the entire period of time will not exceed a dollar because you'll use just 2 kWh in order to do it. What number of phones are you using at home? Where are those tiny devices? Multiply this number with the population of the world.
3. Micro Size Solar Cells
This patent was necessary due to the fact that the cells have to be extremely small , so that you don't feel their presence or their weight. This was one of the most difficult aspects of developing this technology: making cells small enough to be able to fit into clothing.
The cells are designed to be worn with contemporary, breathable clothes. The designers considered this when they designed the clothing. They adapted and shaped the entire collection in order to meet that standard. One research group from the university needed more information about how sustainable this concept is. It was also necessary to determine if these solar cells could be integrated into normal fabric.
The cells they used were just 3mm by 1.5mm in dimension. But, they could confirm that the technology within these cells is an actual powerhouse , despite their small size. They showed that these tiny solar bugs function exactly as they ought to when they were examined. The solar bugs don't cause any discomfort, and they will continue to be able to charge your Fitbit and smartphone devices. It's the outcome of testing around 200 solar cells that generate 2.5 to 10 volts of power as high as 80 milliwatts.
4. Fabrics that are waterproof and machine washable
Another option is to make the fabrics using solar cells. They are safe and solid, while generating energy by absorbing sunlight. We do not want to put on a jacket, or any other clothing that needs to be handled differently. People are impatient. They don't have time to contemplate these things.
The University of Tokyo and Riken research institution presented a prototype of this waterproof, machine-washable solar fabric in the year 2003. That was the start of the whole process. We now have solar-powered clothing with micro solar cells to charge your devices that are small. All of this is wrapped in trendy pieces that you can put on every day.
The patent-pending cells are laminated with a waterproof resin to make this system waterproof. You can wear your solar cells' fabric in any weather conditions, even when it is raining.
Photovoltaic Solar Noise Barriers (PVNB)
Everybody has complained about the noise from highway traffic in the US. 48 states have constructed nearly three thousand miles of traffic noise barriers to address this problem. Noise barriers were created with one purpose in mind: to make noise barriers cost-effective and efficient. It is believed that the US Department of Energy is currently working to incorporate noise control into the power generation process.
The potential to produce solar power from noise barriers in the US is about 400 gigawatt hours (GWh) annually, given the widespread usage of them. It's about equivalent to the amount of electricity utilized annually by 37,000 homes.
Design and function
The photovoltaic modules can be integrated into the barriers as support elements inside the soundproofing/sound-absorbing panels. To ensure maximum performance, the design of the solar-powered noise barriers (PVNBs) must consider a variety of elements like materials, location of barriers, their dimensions, local climate, amount of solar radiation and azimuth. Two different purposes are served through photovoltaic noise barrier.
They first reduce how much acoustical radiation that is scattered or diffracted towards the origin. The solar cells of PV modules convert sunlight to electricity. This reduces CO2 emissions and also reduces noise. The first research paper on PVNBs also explored the possibility of reducing noise pollution.
The majority of professionals who work on environmental noise barriers are aware that vehicles can cause visual damage to the area and impact views. Numerous cases have demonstrated that environmental noise barriers could help solve both issues. There is increasing concern about the impact of pollution of the air on the planet. Noise barriers for the environment may have the ability to reduce air pollution from roads. In the coming years technology will make it more likely that barriers with the ability to lower air pollution play a greater role. Three main drivers will be driving barrier design: sound reduction, the visual screen and less air pollution
LA Solar Group can help you choose the best solar solution for you today
Sign up on LA Solar Group and get free quotes for a solar shingle roof, or regular solar panels. You need only an email address and we'll have our Professional Solar installers connect with you.