Commercial Solar Panel Installation, Commercial Solar Energy, Commercial Solar Panels
Solar Panels are a favorite choice for commercial owners who want to reduce overheads and lower their energy bills. As per the Solar Energy Industries Association (SIA) each year, more companies opt to have solar installed at their locations. In addition, more and more people are using solar panels. This guide can help anyone who is seeking solar-powered solutions to run their business. This guide will help you understand the pros and cons about commercial solar panels and the different types of systems. It also offers step-by-step guide on how to go solar and the financing options.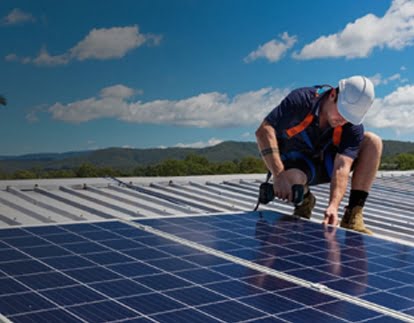 Types of Commercial Solar Systems
Commercial Solar Panel System
Commercial Solar Projects
Commercial Solar Panel Installation cost
How much do commercial solar systems cost?
According to the Solar Energy Industries Association (also called SEIA), commercial solar panels will cost an average of \$1.45 per Watt as of Q4 2021. This is less than 50% less than solar panels that are used on houses (\$3.06).
Keep in mind that average prices can hide large variations in prices. Due to economics of scale prices per watt tends to decrease when systems become larger. Prices can also vary due to many factors, including location (costs differ based on the location) the type and complexity of installation, and the type of mounting system.
Keep in mind, however, that these costs aren't included in any incentive programs. This could significantly lower the cost of your services. For more details on incentives and rebates, refer to the next section.
Commercial Solar System benefits
Businesses, governments as well as non-profits have many compelling reasons to go solar. These are the main advantages and benefits of commercial solar panels systems:
Other incentives and tax credits for solar

There are a variety of ways to finance your business.

Green credentials

Payback time is quick

Below are the details for each benefit.

Other incentives, including solar tax credit and solar tax incentives.
The federal tax credit equals 26 percent of the total price of a solar system.
If you invest $50,000 to install a sun-powered system then your tax return will show a $13,000 credit. This guide from the Department of Energy provides more information about the solar tax credit for commercial solar installations.
Additional incentives can be provided by utilities, states, or local governments to encourage businesses to switch to solar. Look into what incentives may be available in your area.
Electric bill offset can lower operating costs
Solar power systems that are commercially available can cover 100 percent of an organization's electric bills.
Grid-tied systems allow you to import excess power, and export it to help offset the electric bill. In the event that net meters are activated you may even receive the retail price for the power you export!
You can have your complete electric bill paid off with:
Be prepared for future price hikes by producing your own power.
A positive cash flow from solar power could bring positive cash flow to many organizations. The loan repayments, if there are any are usually less costly than the savings from the solar panels.

You get free electricity once your solar panels are paid off.
Best commercial solar companies
Nevada Solar Group is a trusted online resource for impartial consumer reviews on solar panels.
Nevada Solar Group understands the business requirement for an all-in-one point of contact to manage and keep track of your contracts. We have the expertise to provide a complete service, where each step is carefully identified and communicated ahead of time. This ensures that your business operations don't suffer any interruptions. We are aware that cost and quality will guide your decision-making process.
We're happy to give more information or help with commercial solar panels and big-scale solar power for business projects. Nevada Solar Group can be contact for a no-cost estimate of the upfront cost.