Installing Photovoltaic Panels
Installing Photovoltaic Panels
Within the United States, more than one million homes have gone solar. A lot of people are considering Solar PV technology. You might be looking for solar power and would like to learn details about the procedure involved in setting up solar panels. From signing the agreement to getting your house powered by solar power there 5 steps to follow. The majority of this process is performed behind the scenes. We have outlined the steps in a five-step process to provide you with the basic solar installation process.
How does the Solar Photovoltaic System work?
Once you've set up solar panels you are able to start harnessing the potential of nature's richest resource. How does this work?
After being installed, solar panels capture the sun's energy and use the energy to generate DC electricity. The produced power can be stored in storage batteries so that it can be utilized with DC devices.
Alternately, you can convert the generated power to AC from the banks or panels. This can use to run a variety of appliances that only require AC electricity.
Solar panel installation: five main steps
LA Solar Group will usually take five steps to install solar panels An engineering site visit, finalizing permits, documents, ordering the equipment, and then approval and interconnection.
Engineering site visit

Documentation and permits

Ordering equipment

Approval and interconnection
If you're interested in solar energy or just conserving money on your electric bills, it's an excellent idea to make sure that your home is efficient. A comprehensive Energy audit on your home can reveal any problems that can make your house less energy efficient. You can reduce the energy use of your home by fixing these issues. It may be necessary to change to appliances or lighting that are energy efficient. A weatherproofing of your home could be required.
It's always a good idea to get a general overview of solar panel installations, regardless of the type. Our new solar panels have enabled us to save \$2250 per year on their electricity bills and they will be able to break even in five years.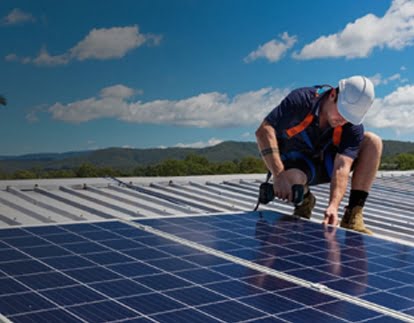 Step by step instructions on how to install solar panels
It takes time to set up solar panels. There are steps to be followed before your home is able to use solar power. It usually takes one and three months from the moment you sign your contract. After that, your solar panels will connect to grid, and will generate the electricity needed to power your home. Below is a breakdown of the five-step process for installing solar panels.
1. Visit to the engineering site: This is the first step to getting your solar system set up
Once you've signed your solar contract with us, whether it is a loan, lease or cash purchase, an engineer from LA Solar Group will visit your home to evaluate the electrical health of your house, and ensure that all your electrical equipment is compatible with your solar installation. Our engineer will work directly for the installer. After you've signed with the LA Solar Group installer, you can expect to have the engineer visit the installation.
The engineer will look over your roof and ensure it is solid in its structure. The engineer will examine the electrical panel in your basement that is the gray box that connects to your roof. This will help determine the need to be upgraded. LA Solar Group installers will tell you if they think the panel is in need of being upgraded. The newly installed solar panels are able to draw more power and your box's ampere capacity will have to be increased.
If your system is old enough, it might need to be replaced.
This engineer visit is not identical to a standard site inspection. It's an occasion when an LA Solar Group installer assesses your property in order to determine the system's size, angle, kind of roofstructure, the shading, and many other aspects. Before signing any contract. Typically engineers will be present, but in certain cases, the installer will take photos of your property and also measure the roof. The engineer is then able to sign off without visiting.
2. Permits and documents: The logistical paperwork needed to install your solar panel
The installation of solar panels is a big financial investment. There's a lot paperwork involved. Most of the paperwork is managed through an LA Solar Group installer. However, it is recommended to be aware of the specifics of your solar installation. You can seek federal and state incentives, such as the federal ITC as well as local solar incentives.
You will also need to seek incentives and fill out paperwork such as building permits, during construction of solar panels. These permits will be specific to your region. Some states, like they require solar panels to are installed within three feet from the rooftop. Other areas in the U.S. allow panels to be placed across the entire roof. The rules and regulations of each state will be identified to LA Solar Group installers. They can also help you identify which permits are required. We will complete this paperwork for you.
This step will take you quite a long time to complete. LA Solar Group will ensure that the installer doesn't need to take long to submit it. It is likely that you want to get your solar panel up and running as quickly as possible. Make sure you follow up with your installer so they are aware of the progress of your documentation.
3. Equipment ordering: choosing the panels and inverters, and planning your installation
When you have all the documents in order, LA Solar Group installers are able to place an order with their primary distributor. You will already have decided what equipment you want in your system. This decision is made before the contract is signed, which outlines the cost in total.
Here are some suggestions to help you pick the best equipment. Solar panels and inverters are two of the primary components that you will be evaluating for your clean-energy system. LA Solar Group installer will probably recommend one brand for each, and could offer a range of options. The primary factors homeowners consider to determine which brands to choose are their reliability, durability as well as aesthetics.
You can ensure you have the right equipment for your system by looking up microinverters, string inverters, power optimizers, and top-rated solar panels available. You can evaluate your options in order to better get ready to order and ship phases in the process of installation.
Once the ordering process for equipment is complete after which your property will be added to the LA Solar Group installer's list. The equipment (panels or inverters) you order will arrive on the same day that your application is approved. It typically takes between one to two weeks. The amount of projects in the queue can also impact the time it takes to set up. It is best to plan your solar installation for winter.
Any solar-powered homeowner seeking to make use of green energy must be enthusiastic about the setting up of their Solar Panel from LA Solar Group. Installation day is comprised of many steps.
A LA Solar Group solar installer will start by preparing your roof and attaching the tiles or shingles properly.

They will then wire to connect the panel to the power system in general.

After the electrical wiring is completed, the electricians will join the racking to your roof.

After the racking has been leveled and secured, the panels can be placed on the rack.

Your inverter(s) that convert directly current power (DC) into alternating current energy (AC) are connected to panels. This energy can be utilized in your homes or on the electric grid.
Based on the dimension and complexity of your system, the time required to install the equipment will differ from one day to three days. Installing a power meter in order to monitor your system's power consumption can also add to the duration of installation. Installing a power meter may require a bit more time to complete your solar panel installation.
LA Solar Group, top solar firms, is reliable and is able to complete the steps with no issues. We make sure that the installers have experience and offer excellent customer service. The last step in installing solar panels is the review and final approval. This can show if your installer has cut corners.
5. Approval and interconnection
The flipping of your switch or officially creating power from your rooftop is the final step in going solar. Before your solar panels are connected to the grid, an official from your local government must inspect the installation and give approval. The representative will review your installation and give approval. The representative will review the installation to ensure that the electrical wiring is in order, mounting was securely and safely attached and that the installation is compliant with the standards for roofs and electrical setback codes.
Following this inspection, you're now prepared to apply for grid interconnection. LA Solar Group representatives will visit your solar panel system for their final inspection. Your panel will then be linked to grid when they give the OK. It will take between two and one month to receive town approvals and utility approvals. Once that is done, the the interconnection will be in place.
What is the cost of solar panels in 2022?
When you take into account the federal solar tax credit the cost for the installation of a solar system in 2022 will range from \$17,538 to \$203,458. A single solar panel could cost between \$200 and \$250. When you take into account the federal solar tax credit (\$27,000.00 before credit) for a 10 kW solar panel installation would cost \$20,498. Solar panel prices in 2022 will average \$2.77/W for a cost-per-watt (\$/W).
Solar panels are a distinct product. The cost of solar panels will vary depending the location you reside in and what manufacturer you choose. These are the major factors that affect solar panels and solar installation price.
System size: The larger your solar panel system is, the more expensive it will cost. The average price per unit for solar drops increases with the size of the system.
Location: Prices differ by state due to local quoting trends aswell as system size differences. States with a larger system size will typically have lower average solar costs.
Brand and quality for the panels: As with any other item solar panels come in a variety of qualities.
The characteristics of a solar panel installation is more expensive than the installation itself. The installation difficulty is a cost borne by your solar installer. A more complex roof could add cost to your system.
Labor: Each solar company has a different cost for labor to complete their job. It is possible to pay more to get a company with higher reviews and a faster installation time.
Interconnection and permits. While they are not the most important aspect, the cost for permits and the interconnection fee can increase the cost of your solar installation.
The Benefits of Installing Solar Panels
A solar-powered system can be a smart decision due to a variety of reasons.
Solar Panels are clean, renewable and sustainable, which means it benefits the environment.
Additionally, you are investing in a renewable, sustainable and affordable energy resource that can be commodified to improve stability in the economy. You can sell excess electricity back to your grid. Earn money while making sure that the electricity you need is always in your.
Solar Panels are a viable option to reduce the rising cost that traditional power sources incur. It is not necessary to depend on the grid for electricity, which can be expensive.