How to add more solar panels
How to add more solar panels
It is possible that you have cut down or eliminated your electric bills if you have taken to solar. But, you might need to add solar panels to an existing system. The solar panel system you have installed may be insufficient or the power consumption may have increased since the installation.
You won't find the same procedure when you add panels to your existing system like when you first looked for the solar system. Here are some key points to remember when you are looking into your possibilities.
Considerations to make when the addition of solar panels to an already installed system
How many solar panels do you need? This is one of the most crucial, as it will influence the layout of your system as well as the cost of adding the solar panels.
The number of panels that you will need to power your system is contingent on many variables. This includes your electricity bill and your location, as well as the equipment and the structure that your device. LA Solar Group installers should have access to your electricity bill and be able determine the number of panels you'll need to have for your specific circumstance. This guide can help you determine the number of panels you'll need.
Upgrade and compatibility of solar panels
What panels were used in the original installation? Do any of the components need to be upgraded? Solar panels are expected to generate electricity for a period of 25 years. At that point you might notice significant decreases in output. It is unlikely that you will need to replace any panels from the original system. LA Solar Group installer will inspect everything, including wiring and racking.
If possible, make sure to install the same type of panel when adding new panels. It will guarantee that the panel looks the same visually and uses the identical power outputs to your other panels. It is not recommended to install the same panels if you are unable to do so. In the event that you do, your array may be damaged.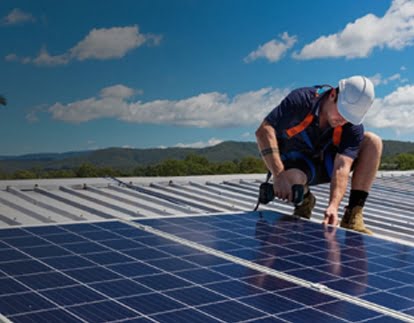 Is the inverter big enough to handle the additional panels? Inverters may have to be replaced based on the additional capacity you've added to your system. The power output of your panels is used to determine how LA Solar Group installer will measure an inverter centrally. Due to the loss of energy during conversion the panels are 'direct current (DC), electricity can be less powerful that their respective inverter. The solar panel system you have installed could produce more electricity if you increase the number of panels it is capable of handling.
In the event that your solar panel has microinverters, adding on projects will be easier. This is not the case with string-inverter or power optimizers. It is not necessary to be concerned about inverter capacity problems since microinverters are installed on every panel. Instead, you could add additional microinverters to the panels.
Panels to be installed by an installer
Does your original installer do add-on projects? It is best to get in touch with them to determine if they are available to take on the task. They'll be more acquainted with your property and system than you are , and are able to include additional panels to their.
This is not an option if your previous installer was not professional or has gone out of business. Although it is possible for a new firm to install your panels it might be harder to locate one. Installers who do not own the installation will not do add-on work. They don't want warranties that conflict for the whole installation or the size of the job is too small. Many companies who install systems do not want to resolve disputes about who's responsible for what component or part of their system.
LA Solar Group set a minimum system size in order to increase their profit margins. Another option is to install some panels. This will yield lower profits that a typical residential installation. LA Solar Group focuses their efforts on larger projects, based on their availability as well as their installation timetable.
Interconnection and permitting
Additional permits or paperwork are required to put in further panels onto your land. It will depend on the number of panels you're installing and the need for an inverter. Also, consider your local permit needs. You will need to make another interconnection request to your utility provider if you intend to add more than two kW to your system.
Installers who are part of an additional job must be familiar with the requirements for permits and interconnections. They can also assist in document these documents as part of the overall price.
It's possible you won't be eligible to be eligible for the same incentives for rebates or tax credits, in the event that you add more panel systems to the system. Certain incentives can only be applied to a single property or per individual.
Performance-based-incentives (PBIs) can be a bit complicated when it comes to add-on projects. The amount of incentive is determined by the amount of electricity the system generates. This can cause some problems in the event that you are using a brand new or upgraded inverter. It's necessary to file the interconnection application.
Talk to your LA Solar Group solar installer about the incentives you may qualify for on the solar add-ons you have purchased. Also, talk to an tax professional If you have any questions about tax credits.
How much does it cost to expand an existing solar array?
It's not much more expensive to add panels to an existing system than to put them in. The new system will be smaller than the original system so it may cost more per Watt. A larger system is likely to be cheaper than one that is smaller, so the per-watt cost for your new system will be greater.
Because a lot of the work required by the LA Solar Group installer is considered "soft" costs, this comprises overhead, permits, labor, and permit fees. Most likely, LA Solar Group installer will need to complete exactly the same task that was required for the initial installation. This includes scheduling work for the crew and applying for permits.
Although the 26% federal tax credit, and any other incentives could be able to use for system expansion but it's possible that the more expensive per-watt costs for system expansion may not yield a huge financial return.
What does the process of adding additional panels to your home look like?
If you're eligible you'll go through the same process similar to when you signed up to the LA Solar Group solar system. This means you'll have two solar energy systems installed on your roof, which you will be billed in separate installments.
We can be reached at [numbernumber.

A customized system design will be sent to you, which you are able to examine.

Once you have approved the design Our technicians will then schedule an appointment to visit your residence to set up the additional panels. This is an independent system that will be compatible with your current solar energy system. You'll get two bills per system.

We'll arrange for the local municipality to grant permission and inspect the system.

We will work with your utility company until you are able to operate with the extra panels.
Should you use the same company that installed your original system?
Although you don't necessarily need to work with the same company who installed the original system for installation, it is recommended to inquire about a cost. They will already be acquainted with your equipment and possess access to your monitoring device. There is no risk of getting rid of the warranty.
Even though a different firm could make an addition into the product, it will not typically void the warranty that was originally issued. However, it's an excellent idea.
The process for getting quotes on a system extension is the same as a standard home-solar installation. You can ask the same questions and receive multiple estimates.
LA Solar Group allows you to add solar panels to your existing system.
It's important to shop around for any solar-powered project, no matter the size or scope. Joining an account on the LA Solar Group Solar Marketplace will enable you to get multiple quotes and examine the costs of solar. You can also add solar panels to an existing system by marking this in your account. Also, provide information regarding the system (equipment and size of the system) so installers can give you the best quotes.