The Q. The latest Q.ANTUM DUO technology allows for outstanding performance even on a small amount of. It is Q.ANTUM DUO, the PEAK DUO G5 solar module from Q Cells. Q. ANTUM
The world's record cell design is complemented by half-cells, the latest circuitry and a six-busbar layout. This combination delivers outstanding performance in real conditions, both in the sun's low-intensity radiation as well as during sunny, hot summer days.
LA Solar Group Q Cells is among the top manufacturers in the solar industry. The company is a major producer of high-quality solar panels. The Q Peak Duo G5 Module is among the most interesting Q Cells products.
The ingenuous technology of Q. ANTUM technology was the reason for this product to win the Intersolar Award 2018, Photovoltaics Category.
The new version has many more benefits than the prior versions, in terms of performance, design , and standards. Let's take a look at some of the amazing features.
LA Solar Group is a representative of their technology around the world. They are a leader for R&D testing and efficacy (up to 19.9 percent!) and manufacturing capabilities.
The technology is based on the concept of PERC cells (rear contact in the cell that permit the reflection of photons and increase the energy output, however they also greatly reduce system performance as well as optimizes production. It also redefines structure for the module. It brings PERC technology to a completely new level.
Photons that hit the solar panels' surface cause electron flow to be released or activated.
To get to the busbars which serve as electron highways, the electric charges must pass over a good layer phosphorus. A lot of electrons cannot reach the busbars because of insufficient kinetic energy and therefore are lost. This is typically represented by the series resistor.
This solar panel has a unique feature: instead of two or four busbars (conductors which allow electrons to flow to the output) It is fitted by six busbars.
The main benefit of increasing busesbars' number is the decrease in distance between them, which leads to a decrease in resistance to series and also reducing the congestion of electrons through the busbars.
This means that there is an increase of 3% in nominal power output than conventional technology.
Q Peak Duo Half Cells Technology
The Q Peak Duo model also has a unique feature: the cells are cut in half with laser technology.
The current can be reduced by cutting cells in half. This helps to reduce the heat inside cells and decreases the loss due to thermal effects (generally because of higher temperatures and lesser circulated air).
In addition, losses due to resistivity are diminished because current values are lower. Therefore, production has increased by 3 percent.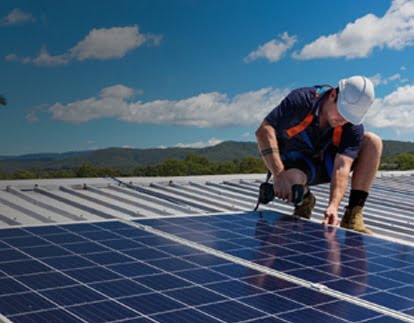 Q Peak Duo & Parallel Connection
A majority of solar panels include 3 bypass diodes.
These devices permit current to flow from modules on the same line in the case of shading. This does not result in hotspots.
One bypass diode happens when a sub-module, or a section of the panel stops producing electricity. Only two thirds of the panel produces electricity.
If the shaded region expands to the entire lower portion of the module, all bypass diodes will act (even if it is less than 30 percent). The module will cease producing until the shade is removed. This is a huge problem since it could result in significant losses.
This issue is resolved by using the Q Peak Duo model, which connects two modules in parallel.
Additionally, even if the shade covers the lower half of the panels, it will still produce!
Leading Industry Warranty
LA Solar Group manufacturers offer guarantees that their solar panels will not lose more than 80% power output over 25 years.
The standard guarantee is offered offered by most technology. This feature is unique for the Q Peak Duo, which comes with a warranty of 85percent nominal power output after 25 years of service.
This gives an annual maximum degradation factor of 0.544 percent.
Another innovation is the shape of conductors. Flat ribbons are used to transport electricity in conventional solar panels. This creates shading from the cell's ribbons. This reduces the amount of light absorption.
Q cell q.peak Duo Cell Modules are constructed with a round-shaped six busbar design that dramatically reduces the shades of the silicon layer.
This technology boosts production, and also adds 2.5% energy to each cell when compared with conventional technology.
The life span and production of solar panel modules is also affected by other factors.
Potentially degradation induced by (PID) such as, is an undesirable consequence of in leakage currents that are present on high voltage strings that have high humidity and temperatures.
Q Peak Duo tech is more resistant to this effect and can even withstand installations of up to 1500 VDC!
LID could also help in reducing power output. LA Solar Group Q Cells is among the very few companies that have researched this issue and designed an Anti-LID technology.
Benefits of your Q.Peak duo g5 Solar Panel
MODULE STATE OF THE ART TECHNOLOGY Q. ANTUM DUO – Q.ANTUM DUO combines cutting edge cell separation and cutting-edge wiring with Q.ANTUM Technology.

Q. ANTUMTECHNOLOGY: INVESTMENT PAYBACK TIME: Higher yield per square meter, lower BOS cost as well as higher power classes, and efficiency of up to 19.9 percent

INNOVATIVE ALLWEAR TECHNOLOGY - optimal yields, no matter the weather with excellent low-light and temperature control.

EXTREME WEATHER RATE - High-tech aluminum alloy frame, certified for high snow (5400 Pa) and wind loads (4000 Pa) for IEC.

Particularly high-performance – Long-term yield security through the latest Anti LID and PID Technology, Hot-Spot Protect and Traceable Quality Tra.Q

Reliable investment – Includes 12-year product warranty and 25-year guarantee on linear performance.