The flexibility in EV chargers' maintenance and utilization allows them to be located in many different places, such as shopping malls, workplaces, parking lots and even your own house or garage. The main reason for this is that it doesn't take much place to be installed. Now you must accept that it is an extremely convenient method: convenient yet prolonged. EV charging takes much longer than ordinary vehicle gas filling because, unlike the latter electric vehicles are equipped with car batteries that require full charging. Today's EV industry is rich in choices suitable for all customers' requirements and budgets. If you consider switching to an electric vehicle or purchasing an EV charger for home, here are a few tips for you to consider.
Types Of EV Chargers
We have three EV chargers at our disposal: Level 1, Level 2, and Level 3 EV chargers. Before describing each of them in detail, it is worth mentioning that all the data provided is conditional depending on the type of the electric vehicle, battery age and type, driving habits, and others.
With a 1kW power outlet, the Level 1 charger requires about eight hours to charge your car fully. This is especially suitable for EVs with night-charging habits. Your car is charging while you are sleeping, and it is readily available in the morning. This charger's benefit is that you can charge your car almost anywhere since all EVs come with an adapter. The Level 2 charger is more powerful, with approximately 3kW-20kW power and charging duration from 3-8 hours. Next comes the Level 3 charger with power output above 20kW and about a one-hour charging duration all in all. If you value your time, you are sure to stop your choice on the EVs and the Level 3 or DC fast chargers. Since this type is not available for all-electric vehicles, do thorough research before choosing the best EV charger suitable for you.
DC Charging: How Does IT Actually Work?
To take a closer look at DC fast charging, we must answer the following three questions:
What Are The Key Parts Of A DC Charger?
As mentioned above, DC chargers typically operate at the Level 3 charging powers. With higher power operation, the AC to DC converter, the DC to DC converter and the power control unit become more extensive and expensive. That is why DC fast charger is implemented as an off-board charger rather than an on-board charger so that it doesn't take up much space within the vehicle and can be shared by several users.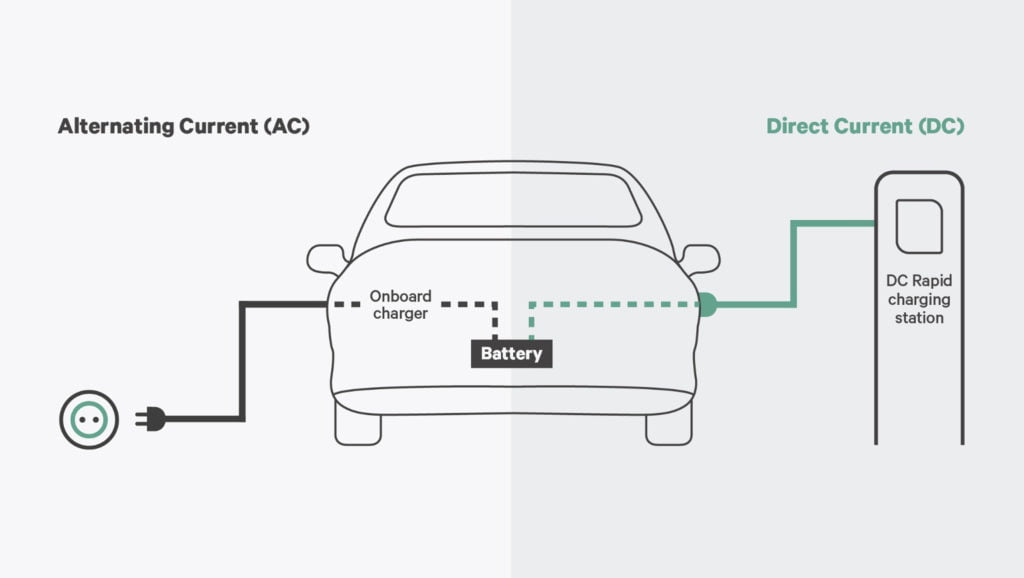 So, what does the current flow look like from the DC charger to the electric vehicle battery? With the first step, the grid's AC power is converted to DC power via a Rectifier inside the DC charging station. Then the Power Control Unit adjusts the voltage and the current of a DC converter to control the variable DC power delivered to charge the battery. The Safety Interlocks and Protection Circuits are used to de-energize the EV connector and stop the charging process whenever there is an improper connection between the EV and the charger. The Battery Management System or the BMS plays the crucial role of communication between the charging station and to control the voltage and the current delivered to the battery and to ensure protection in case of unsafe situations.
What Types Of Connectors Are Used For DC Charging?
Five types of DC charging connectors are distinguished: CCS US (Combo 1) – combined charging system used in the US, CCS Europe (Combo 2) – combine charging system used mainly in Europe, CHAdeMo connector – used globally by cars from Japanese manufacturers, Tesla DC connectors – used for AC charging as well, China GB/T standard. The first two types of CCS are integrated connectors used both for AC and DC charging. CHAdeMo uses a control area network or CAN for communication between the charger and the car. It provides the opportunity to communicate in real-time without a host computer. The Tesla charging connector's uniqueness is that the same connector can be used both for AC and DC charging. China GB/T standard uses CAN-BUS or control area network bus. It is worth mentioning that the values and parameters of these connectors are continually updating.
What Are The Limitations Of DC Fast Charging? 
Fast charging is very attractive indeed! It can go up to 300kW – 500kW, shortening the charging time. However, it also has three limitations that you can't ignore.
High current charging leads to high overall losses both in the charger and the battery.
Fast charging reduces the EV battery lifetime.
For a more robust charging current thicker charging cables are required. So, the higher the current, the heavier is the charging cable.
Value Your Time With EV Home Chargers
Time is the most precious value in life, indeed. What is really annoying is the waste of it for no significant reason. Today's challenge is to manage to do all you've planned, plus have some spare time in the evening as well. Without means of transportation, it is not possible to handle all the hustle and bustle. A correct vehicle is the number one assistant in this case. By correct vehicle, I mean one that is comfortable and safe to drive and easy to maintain. And in this case the "Oscar" goes to the EV. You can recharge it at night and drive the next day as much as you like. If you live in Los Angeles or any other city in the area, this vehicle is for you.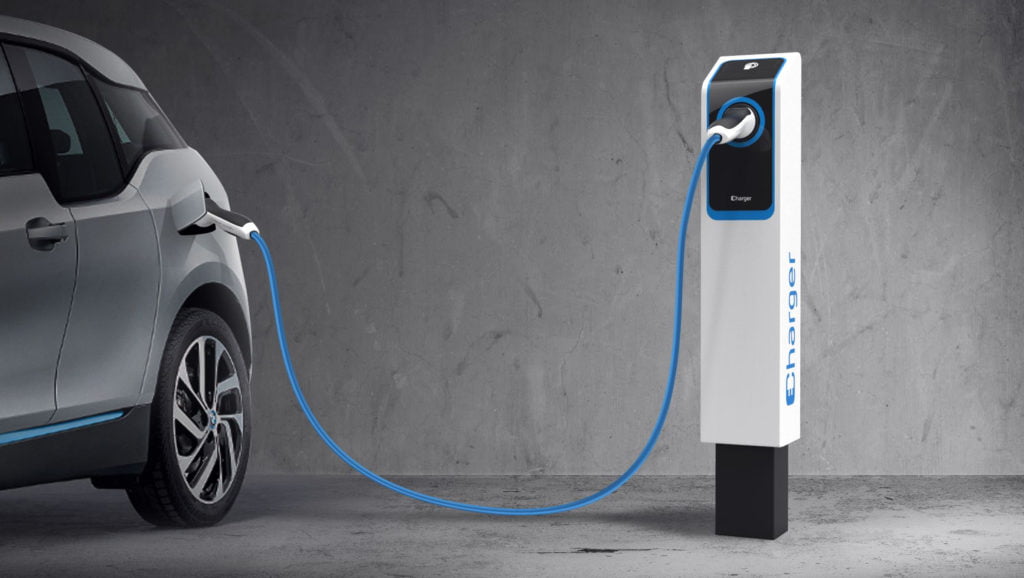 There are many EV chargers in Los Angeles, so there is no problem with car recharging. You can put your EV to charge while working at the office, having lunch with your teammates in the café, or even when you are shopping in the trade center. As mentioned above, not all EV chargers are suitable for this or that vehicle, so it is highly recommended to take this into account. The map of available EV chargers in the city is essential. If I were to purchase an electric vehicle, I'd first outline all the EV chargers near me to figure out what type of car to choose. What is even more convenient is to have an EV charger installed at your own place. It doesn't take much place and is easy to install. So, if you have made up your mind to switch to EVs, take all this into account.
Author of a publication: Helen Kocharyan