Written by: Ben Hoppe, Solar Consultant.
There are a number of reasons why lightweight concrete tile roofs have become highly popular in the last decade or two in California. Tile roofs are long lasting, fire proof, and are highly effective at preventing water leaks when installed on houses with pitched roofs. Lightweight concrete came into the market in the early 1990's and was installed primarily for flooring and framing of high-rise commercial & residential buildings. It's lighter weight reduces construction costs for high rise building while maintaining the same structural integrity as traditional concrete.
How are lightweight concrete tiles made?
What sets lightweight tiles apart from other tiles is the materials used in the concrete mixture. The manufacturing process for lightweight concrete tiles includes a combination of clay, slate, or expanded shale that is fired them in a kiln. Once these products are heated for a long period of time, they dry out and become highly porous. After being in the kiln they are cooled and used to mix in with the concrete.
Durability
Lightweight concrete roof tiles are nearly as structurally sound and lasts equally long as standard weight concrete tile. Despite its lighter weight, it is a tried and tested roofing material which has been proven to protect against the elements over time. Lightweight concrete tiles are best used for buildings and homes that aren't structurally designed to support standard weight concrete tiles.
Which lightweight tiles are good for solar?
Boral, one the largest roofing tile manufacturers in California, has stated that the lifespan for both lightweight and standard weight roofing products last upto 75 years. Keep in mind that the underlayment, which adds a second layer of defense against the elements, will wear out within 20-30 years. If you are considering re-roofing your home and install a solar pv system, we recommend the following lightweight tile types. These lightweight concrete tiles are approved by both CRC (Cool Roof Council) and California State Title 24 building code.
Capistrano tile – 570 lbs. Sq*

Malibu Tile – 550 lbs. Sq*

Bel Air Tile – 720 lbs. Sq.*
*The weights may vary slightly and a structurally competent person should investigate any roof to ensure the weight can be supported by the existing structure before installation The weight here are per square as defined by a 10'10' area of roofing material.
Changing from a Shingle Roof to a Lightweight Concrete Tile Roof
While tile roofs are proven to stay cooler in the hot weather than shingle roofs, some houses cannot structurally support the weight needed to handle standard weight concrete tile. Your first step is to consult with a structural engineer to determine how much weight your roof can support. What are the weights of different roofing systems, Approximate weight per Square (10'x10' area) are as follows: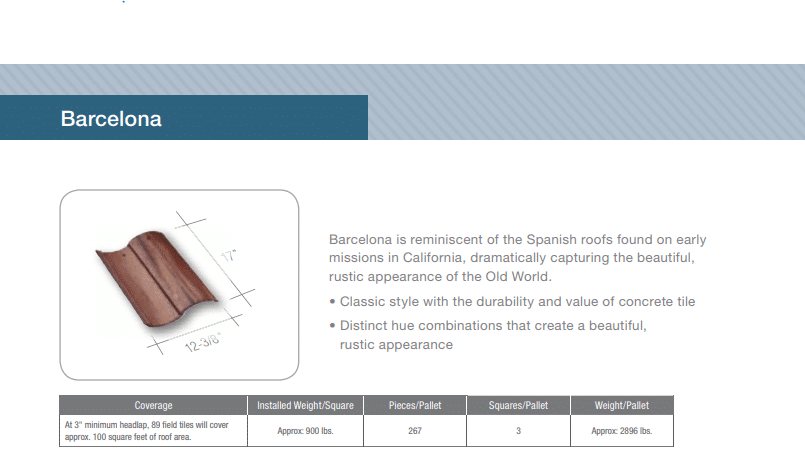 Barcelona S Concrete Concrete Roof tile: 1,030 per square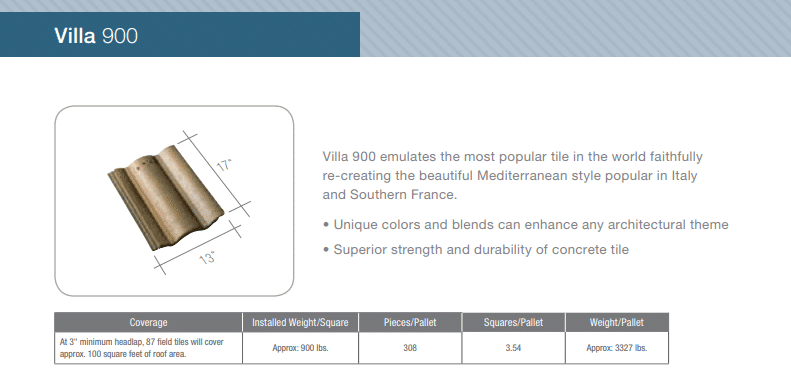 Boral Concrete Villa Tile 900 lbs/ Sq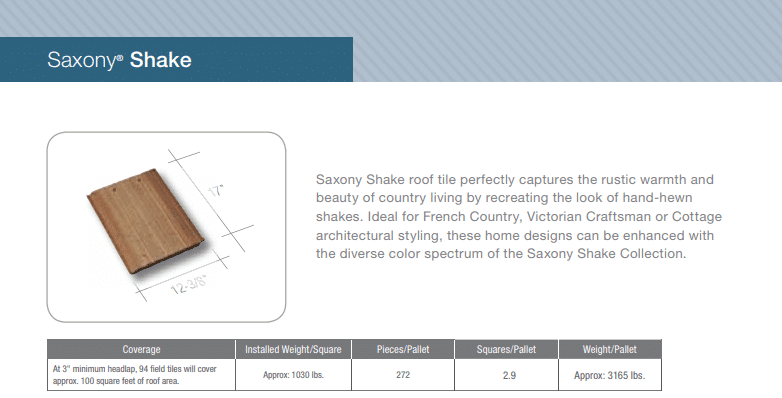 Boral Concrete Saxony Shake – 950 lbs/ Sq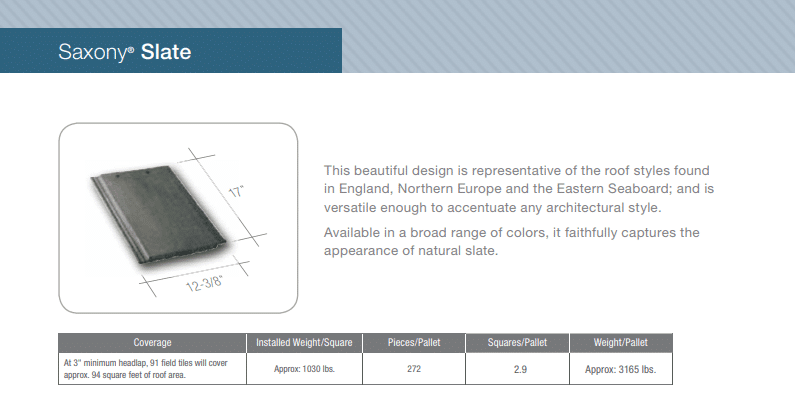 Boral Concrete Saxony Slate – 1030 lbs/ sq
Dimensional shingle roofs (average) – 360 lbs/ sq for a high quality dimensional shingle.
Image Source: Boral Roofing LLC.
Conclusion
:
More and more homeowners today are making better choices to protect their home/building by looking at the cost of roofing replacement over the long term. With long lasting and durable lightweight concrete tile roofing systems your home will have a higher quality look. A look which over time will last, as tiles have much less wear over time than shingles or other roof types. Tile roofing keeps your house cooler than asphalt shingles, and also lasts longer meaning less money over over 50-60 year period. Tile roofing is one of the most popular roofing types in California for a reason. Lightweight tile may be a great option for you if you are looking to save money on utility bills and install a lasting, high-quality roofing system.
While many solar contractors simply focus on the solar piece, LA Solar group prioritizes finding the right roof type, and the right solar system for each and every customer. Lightweight concrete tiles are an option that we offer that can help our customers save money on electrical bills, and provide a lasting roofing solution costing less in the long term than shingle roofs. If you need an expert to assess your roof, provide a proposal or simply inform you about your options, LA Solar group is here to help you find a solution.